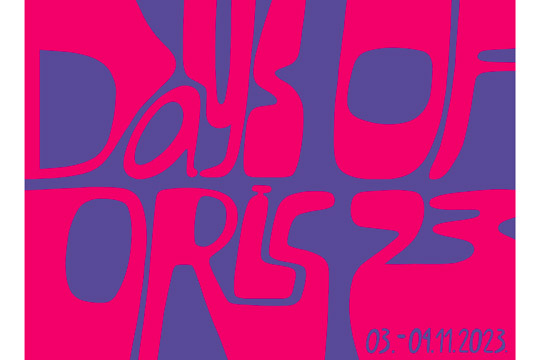 30/06/2023
We are happy to announce the 23rd edition of the Days of Oris Festival, which will take place on November 3 and 4, 2023 (Friday and Saturday) at the Vatroslav Lisinski Concert Hall in Zagreb.
SPEAKERS
Mia Roth Čerina & Tonči Čerina, Croatia
Mikelić Vreš Arhitekti, Croatia
Studio Autori, Serbia
Arhitektura Krušec, Slovenia
Fasch & Fuchs Architekten, Austria
Amir Vuk Zec, Bosnia & Herzegovina
Carme Pinós, Spain
Vinu Daniel  for WALLMAKERS, India
&
SPECIAL GUEST
+
Exhibition of submitted works for the "Tripun Bokanić" Competition at the Pučišća Stonemasonry School 2023.
Moderators: Mia Roth Čerina, Maroje Mrduljaš, Dinko Peračić
All lectures will be without simultaneous translation.
Festival Days of Oris 23 is included in the professional training program of Croatian Chamber of Architects with 12 hours.
REGISTRATION FEES
65,00 EUR / 489,00 HRK // REGULAR
40,00 EUR / 301,00 HRK // STUDENT
You can buy the tickets at this link.
If you are a member of any of the Festival's partner institutions, you are entitled to a 10% discount on the regular registration fee. To claim the discount, please contact us at ivica@oris.hr and provide proof of your membership.
INFORMATION AND TICKETS SALES
Contact person /// Ivica Novak
Oris d.o.o.
Kralja Držislava 3, HR-10 000 Croatia, Zagreb
tel: + 385 1 37 78 177
e-mail: ivica@oris.hr
The organizer reserves the right to change the program and conditions of participation without prior notice.