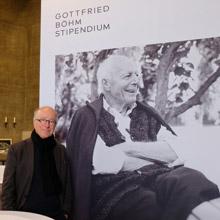 13/06/2023
Gottfried Böhm Scholarship: New opportunity for architects
The Gottfried Böhm Scholarship supports architects in the postgraduate phase who are particularly interested in the connection between architecture and urban planning. Under the patronage of Cologne's Lord Mayor Henriette Reker, the one-year residency scholarship takes place in the metropolis of Cologne. The scholarship holder is given the opportunity to work for one year on creative and visionary tasks in architecture and urban development for Cologne and its periphery.
"Gottfried Böhm has shaped our city with his buildings and through his works, he carried Cologne's building culture into the world. By naming the scholarship after him, we honor the high esteemed Cologne architect for his life's works. Gottfried Böhm combined aspects of urban planning with those of sculpture building and architecture like no other. In this spirit, the scholarship is intended to enable architects of a new generation to deepen their interest in this connection in a focused way and to deal with our city in a creative and visionary way for a year," says Cologne's Lord Mayor Henriette Reker, patroness of the scholarship.
The application period runs until August 31, 2023. The scholarship will begin in October 2023.
For this period, he or she will receive free accommodation, a workplace in a creative environment in the heart of the city and a monthly grant totaling 2,500 euros. The scholarship is offered and supervised by the Verein der Freunde und Förderer der Technischen Hochschule Köln e.V. (Association of Friends and Sponsors of the Cologne University of Applied Sciences).
The work results produced during the Gottfried Böhm Scholarship will be presented at the end of the scholarship at a reception hosted by the Lord Mayor and then exhibited for two weeks in the Spanish Building.